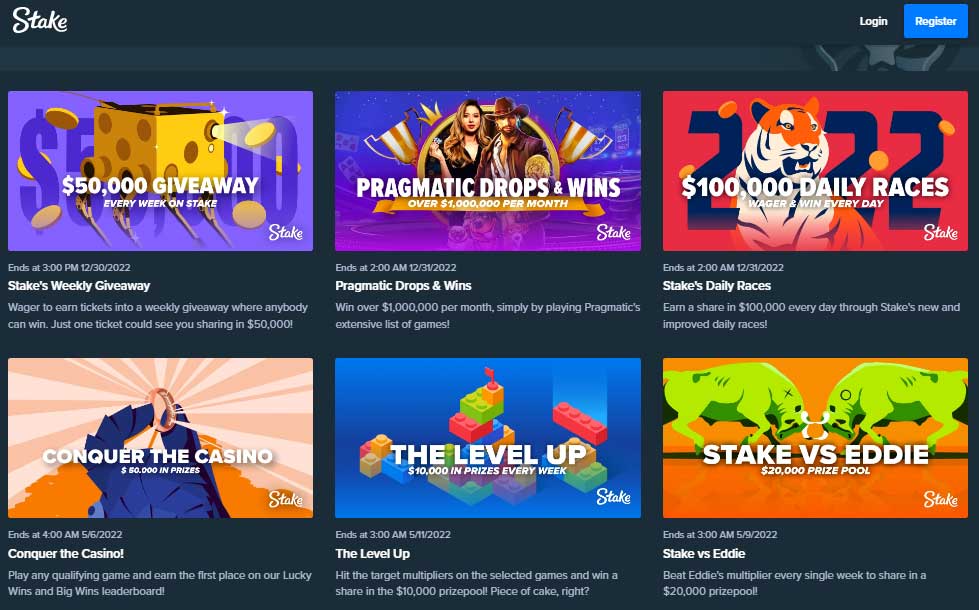 As already mentioned, casino games are Stake's wheelhouse, which means there's a profusion of lucrative promotions that will boost your chances of cashing out with larger sums.

Every promo scheme has its own terms and conditions, so be ready to double check before you make any first steps. The promotions you should be looking at involve:

- The Level Up, a game where you compete with others for prize pool of $10 000 after betting a minimum of 10 cents.

- $100 000 Daily Racers which increases your odds of winning the more you play. Every day, around 5,000 are destined to receive a piece of the cash pool.

- $50 000 Giveaway for players whose sportsbook or casino bets have amounted to $1000. Every time the sum of all your bets reaches $1000, you are eligible for an entry for this smashing giveaway.

- Conquer the Casino, a promo scheme that offers a prize pool of $50 000 for those who try out Stake's newest casino games.

- Casino Challenges, a game of unexpected surprises that await after completing the set challenges every week.

- Slot Forum Challenge with a minimum wager of 10 cents.

Stake's Million Dollar Race which begins every April for a week and releases cash pool of $1 000 000 for everyone who plays on Stake.