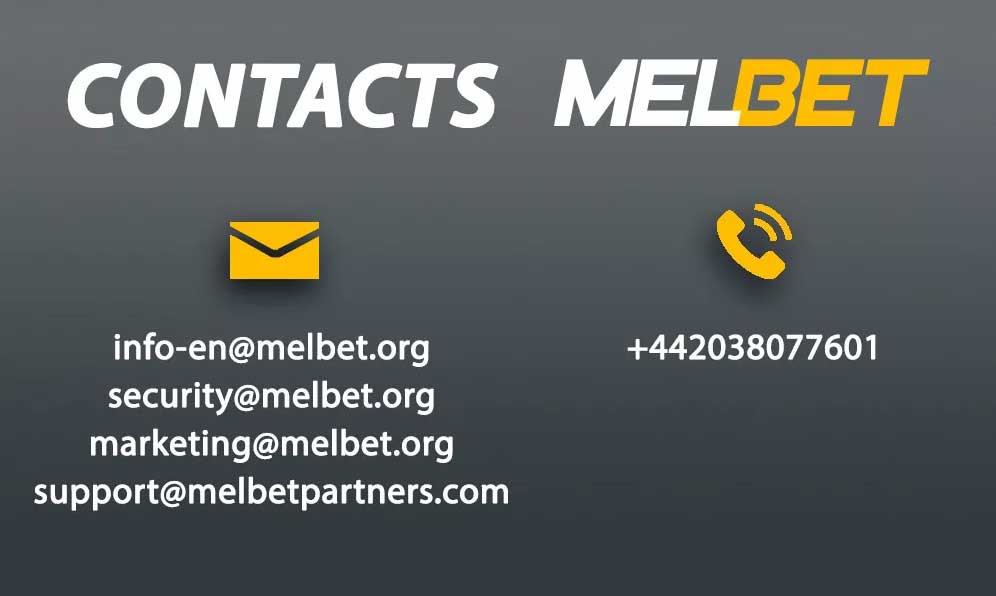 Melbet contact shows its users all the necessary details around getting in touch with Melbet. Whether you want to inquire about Melbet's apps, or you want to alert tech support about a failed transaction, Melbet contact is the page you are looking for!

The quickest way to come in contact with someone from Melbet Contact is via the "Live-chat" function nested on the bottom-right corner of the welcome page. All you need to do is click on it and start chatting.

A Melbet representative will be with you in a matter of minutes.

Another good way of finding an answer to your questions is by visiting Melbet's "Contact" page. The way to do it is by scrolling way down the home page. You'll reach a dark bar with several sections: "Melbet", "Betting", "Games", and more. Look underneath "Melbet" to find the link to Melbet Contact.

There, you'll find all the useful email addresses ready to address issues, suggestions, and even business proposals.

Here's a list of all the contacts and their respective purposes:

- info-en@melbet.com for general questions about betting, promo codes, deposits, withdrawals, and the like!

- support@melbet.com for technical queries.

- security@melbet.com for security matters and reassurance.

- marketing@melbet.com for Marketing and PR-related questions.

- support@melbetaffiliates.com for potential partnerships.

Melbet Contact's team is working day and night to answer every question and review all the business proposals flooding their inboxes, so please be patient when contacting them. Always allow a time window of 24 – 48 hours for every e-mail you send.

That's why it's good to estimate the urgency of your request and decide which department is most fitting for your matter.

And, finally, there is the phone option. Those who have decided that their issue is too impending and can't hold on for a later date can contact Melbet at +442038077601.

You'll be able to discuss in detail everything of great concern to you!

Are you feeling prepared for jumping straight into action after learning about Melbet Contact's robust support system?

From live-chatting with Melbet employees to closing potential business deals with one of the Net's biggest casinos. Melbet is a bookmaker of open doors.