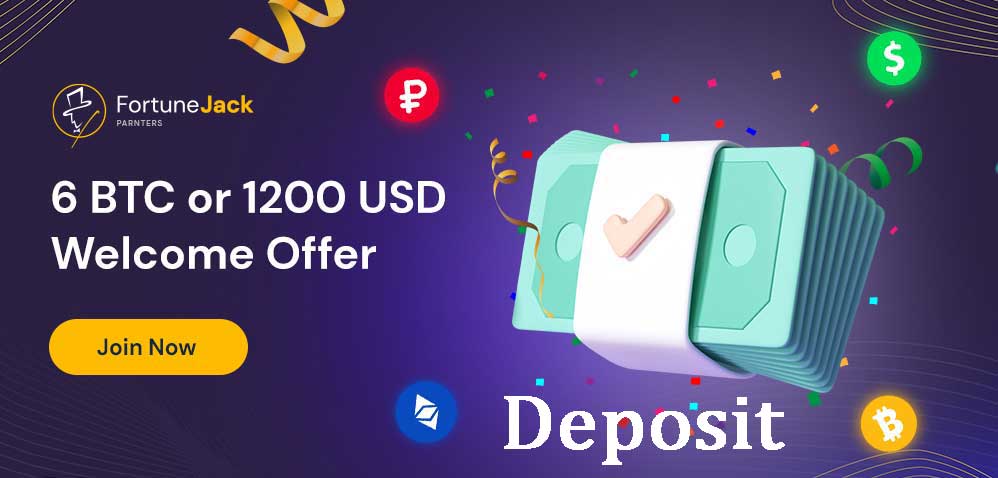 When depositing with FortuneJack Deposit, players can rest assured that no matter the cryptocurrency, transactions are done swiftly and under stringent control.

Nevertheless, you should get acquainted with FortuneJack Deposit's terms, conditions, and guidelines on how to deposit funds in the safest way possible.

You may already know that FortuneJack does not have a deposit limit, as you can insert any amount you want. If you, however, want to claim your FortuneJack Deposit bonus, then you must first deposit a sum of at least 0.02BTC.

To check all bonuses, go to "My Account" and click on "BONUSES", or simply follow this link here.

The fastest method to deposit funds entails these simple steps:

1. Click on the green "Quick Deposit" tab.

2. A dialogue box will open where you'll see the following tabs: Balance, Bonuses, Loyalty Program, Personal Info, Transactions, Messages.

3. Under the "Balance" title you'll see all the available currencies you can deposit.

4. Pick a currency, choose an amount, and click the yellow 'Deposit' button.

And you're done!

Different currencies may have different processing time frames. Using Bitcoin, for example, will take around 20-40 mins and can be much more expensive than other popular currencies such as Ethereum.

As for the type of currencies available on FortuneJack, bettors can choose between a good gamut of tokens:

- Bitcoin, Bitcoin Cash, Litecoin, Dash, DogeCoins, Ethereum, Tronix, Monero, ZCash

If you are into the crypto craze, FortuneJack is the most reputable choice for you.