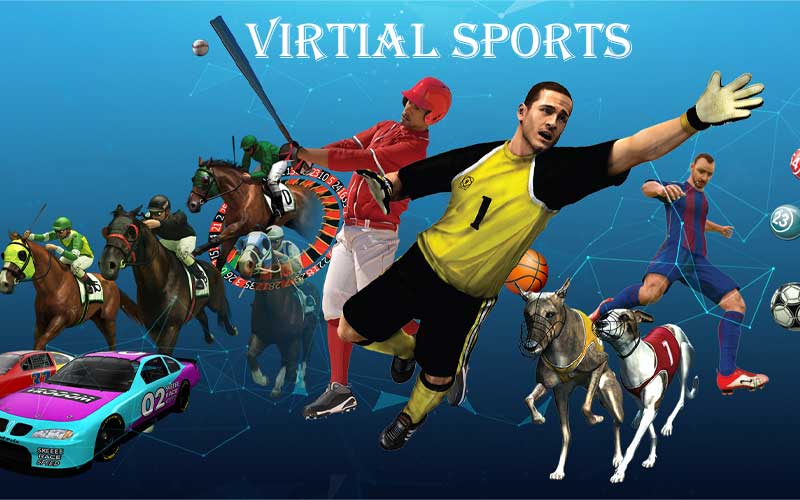 What are virtual sports?
After E-sports such as League of Legends and Dota 2 rose to prominence and started offering outlandish amounts of prize money, the term "E-sports" slowly merged with "virtual sports," adding further confusion to punters' minds. But there is a marked distinction to be made: E-sports are competitive video games played by actual people, whereas virtual sports are simulated games between two fantasy teams or players.
Kinds of virtual sports
For those interested in bleeding-edge technology, virtual sports are just another way of testing the limits of virtual reality. The market is ever-expanding by transforming more and more disciplines into lifelike digital realities.
Some of the most popular games include:
- Football
An obvious one, yet no sportsbook can go without it. Virtual football works like casual football: you have two teams or international clubs playing against each other. During the game, you can bet on a variety of markets, such as Match Winner, Total Goals, Correct Score and also the standard betting odds. And, just like in real-life football, bookmakers will provide you with important statistics about the teams and game.
- American football
NFL, Vaahtera Liiga season, and the Australian Gridiron League are just some of the names of the hottest leagues in American Football. For fans who can't attend the live games, virtual American football offers a simulation of the game that you can watch from start to finish.
- Tennis
Virtual tennis is an exciting opportunity for punters to watch a true-to-life animated game between two imaginary players. Like all other games, bookies give you highlights and statistics to help you make the right decision.
- Greyhound racing
Just like horse racing, greyhound racing is a beloved by many gamblers around the globe. The game involves virtual greyhounds on a virtual track competing for first place. Players have access to markets, live statistics, and different betting odds. You get to choose if your bets fit best a race winner or each-way outsider. Good news is it takes only a few minutes to find out which hound is champion.
- Horse racing
A cult classic that has gripped generations of punters since the dawn of punting itself. Horse racing events feature CGI horses with each horse having winning odds that are multiplied by your wager.
- Darts
You would think developers wouldn't care to design a true-to-life darts game, given how modest in action this game tends to be. But developers, such as Pragmatic Play, have proven us wrong. Virtual Darts does justice to the sport by giving you the complete show via 3D animation.
- Speedway
A virtual speedway involves four to six motorbikes circling around an oval virtual track. The premise of the game is for you to figure out the outcome of the race. Like every racing game, there is a set number of laps the motorcycles have to complete before the race ends. This entirely depends on the bookie you're betting with and also the developer which has put out the game.
How to bet on virtual games?
Great question! Tapping money on virtual games is the same as punting on a real game.
And just like real life you have several betting options:
- Supporting a single player or team by predicting who'll come in first, second, or third place. That sort of bet is common for racing-style virtual sports such Greyhound and Horse racing.
- The over/under bet that receives your prediction about whether the score will be lower or higher than the suggested number in the sportsbook.
- Grouping together multiple bets, also known as Accumulator bet, where the risk and rewards are much higher than with a regular bet.
On top of the industry standard options, there are a variety of developer-exclusive betting markets which you'll only find at the developer of choice.
How to manage your bets?
There are six unique steps to making a sound bet any virtual game.
1. Know your RNG (Random Number Generator)
Virtual sports depend fully on a Random Number Generator which can, in fact, yield outlandish results that will surprise you.
2. Be pennywise with your bets.
Virtual sports tend to generate outcomes that could rarely be seen in real-life sports, so being smart with your money is the only move that can guarantee speedy financial recovery after a loss.
3. The odds and evens.
In this line of thinking, making sure that you prefer small, but consistent, wins over large and sporadic ones. For this reason, punters should be particularly careful with the odds and stakes their bookie offers.
4. A loss in virtual sports hits different.
Unlike real-life sports, where teams can unexpectedly take the lead in the last minute, virtual sports omit a key ingredient - humans. In virtual sports, it's impossible to see the onrush of last-minute adrenaline when players give it all to succeed. It's true that VR games can produce last-minute turnarounds, but the animations won't get you the see the hustle of each player. That's why losses shouldn't be chased up or cried over. It's best to reinvent your strategy or start from scratch with a new bet.
Reliable gaming platforms see here
:
https://www.casino777pro.com/