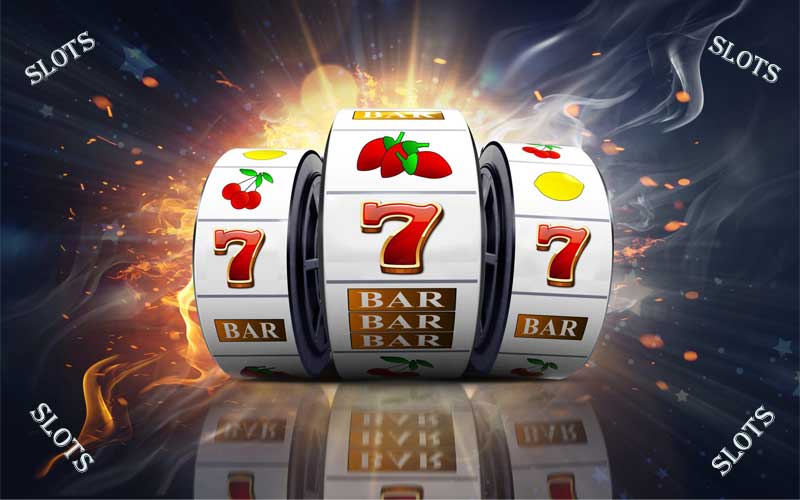 Originally, slot machines were a tool created to lure in non-gamblers who weren't as keen on learning the complex rules and strategies of card games. These machines don't require any previous gambling experience and are widely accessible thanks to low wagers needed to play and also the intuitive controls.
Now that they have proven themselves as the most profitable part of any casino, be it online or brick-and-mortar, the slot machine has been improved and reinvented into two main media: physical and online.
Regular slot machines
What we mean by regular slot machines are the ones you have in real-life casino venues. Back then, machines used to be comprised of thousands of moving mechanical parts, but today, these have all been scrapped and replaced with computerised motherboards.
Nevertheless, the principles of the game haven't changed:
1. Get your token ready. Every slot machine operates with tokens that can be exchanged for cash at the desk.
2. Pull the handle that rotates the reels inside the machine. Given that everything is computerised, those reels will likely be just a screen displaying the images spinning.
3. Win or lose by spinning a line of symbols. Every slot machine displays three unique symbols in a line called a pay line. Every machine works with different combinations of those symbols, so pay lines vary from machine to machine. Also, if you thought that the only way to win is to get a line of three 7s, you would be mistaken. There are many combinations with different pay-outs!
Digital slot machines
This where things get exciting. In regular slot machines, technology is mainly used to protect the casino's machines from scammers and people who want to trick the system and drain the machine dry. However, digital machines the ones played on your PC or phone - can offer so much more.
To begin with, there is one overt similarity between digital slot machines and the regular ones. Despite the fact that all digital slots are played online, there are still differences in payouts, symbols, and design. On top of that, now you have to choose between different game developers who could also be sifted by payout, title, and bonus schemes!
But the bombshell here is that, unlike traditional slot machines, digital machines feature an intricate plot with protagonists, villains, and damsels in distress. As you progress through the stages of the game, the plot unfolds right before you. This gimmick has allowed online casinos to insert in-game bonuses that are determined by the number of stages you complete.
How to play digital slots?
Getting your head around digital slots may be a tad more difficult than your conventional slot machine.
1. For starters, you can now adjust your stake amount, as you are no longer limited to the value of your tokens.
2. Adjust your betting limit. While the only thing stopping you from playing in a regular casino is your own willpower, online casinos give you the opportunity to set a specific number of spins. Even more, you can tell the game to stop spinning after you have reached a particular balance or win amount.
3. Click the spin button.
Slots bonuses
Exclusive to digital casinos, slot bonuses come in many shapes and sizes.
Most often, the bonuses are in the form of:
- 100 free spins upon registration.
- VIP loyalty points.
- Double the odds.
- Losing streak compensation.
But don't you think these are set in stone. Every bookie gets to decide when and how the bonuses are featured and what advantage they give to players.
In fact, individual developers of games can have bonuses of their own. Pragmatic Play, one of the household names in game development for casinos, brings out its own bonuses funded directly by them. You can track which bookies they service and follow the money there!
Online tournaments
Online casinos have tournaments that are not confined to a specific game. They are leaderboard-based events that can last up to 5 days. The tournament usually embraces 5 games of a different kind and monitors the earnings of every player from each game. Whoever wins the most money also wins the whole tournament.
Prizes of tournaments vary depending on the scale and number of entrants. Sometimes a tournament may require you to pay an entrance fee.
Having said all that, slots are one of the most popular choices for these tournaments, as at least one version of slots is present.
Free-to-play feature
For many of the casino games, you would have to register before putting any sums of money into the system. While this may seem fair, it doesn't give players a chance to get a feel for the games.
With digital venues, on the other hand, punters can experience the game firsthand and risk-free with the help of the free play feature, which allows everyone to play their favourite slot game.
Players are given demo funds and don't need to even register to play. Simply click on free play and start testing each game. Keep in mind, though, that just because you won several demo spins doesn't mean you will repeat your luck with the real thing.
Responsible play
Like stated above, demos are different than actual slots, so when the time comes to play real reels, you will have to remember to be responsible with your finances.
To do that, you may follow these three simple rules:
1. Cap your budget. Money for gambling is money to burn. It's likely you won't see them again, so don't get attached too quickly. Set aside a figure that you are okay with losing and do no more. The trick of any casino is to win with the least amount of money.
2. Sober up before playing. If you have decided to go big and invest a larger sum in the hope of getting great returns, then more power to you. In that case, you should play with a non-alcoholic beer in hand because the more intoxicated you get, the worse the decision you make. The losses of those decisions will irritate you even more, leading to tantrums or other unpleasant behaviors that will do you more harm than good.
3. Gambling is for fun. Remember that slots, poker, and all other types of casino games are pure entertainment. You are not there to win it all, nor lose it. You are not competing even on a local level. You are simply there to have fun, so don't confuse gambling with a contest you have to win.
Reliable gaming platforms see here
:
https://www.casino777pro.com/